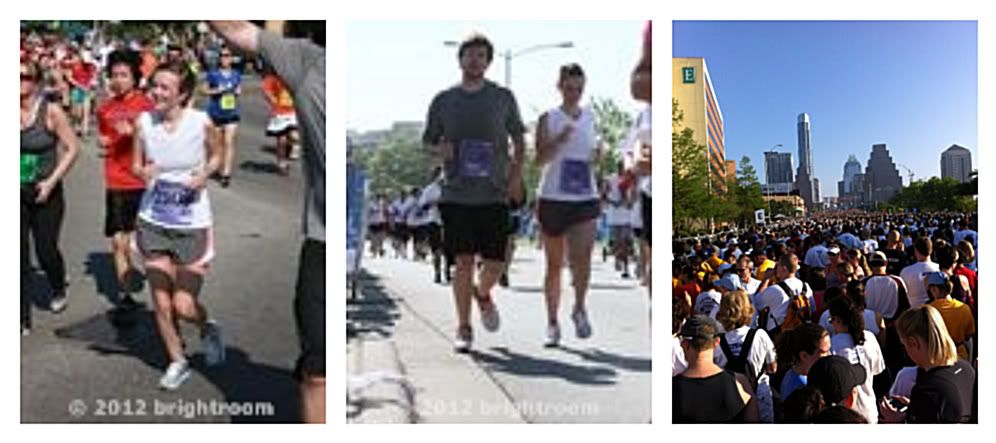 I have never experienced a month go by so quickly as I did with March. Mercy! It seems like just yesterday I was sharing the goodness that was to be happening that month and it is now over. March was wonderful and exhausting. Jordan and I traveled non stop, spent time with some of our most favorite people, watched live music, ran in our first 10K with my cousin and uncle (this was a spontaneous event that we loved/regretted around mile 4 and the next day. A side note for the photos above: I took the first two from the website so they are blurry. But it is good enough quality to prove that we did it ), got to meet some great people at the Texas Student Leadership Forum this weekend, and ended the weekend with our 2 year engagaversary (a word I have stolen from my adorable friend Courtney.)
I have always loved April (Easter, Reese's Eggs, pastels, best friend and family birthdays…)and have come up with a few goals for the month:
–Celebrate my sweet cousin Bill's 5th birthday (mind blown at this fact!) and Uncle Forrest's 50th! They have the same birthday and I can think of no better way to celebrate the lives of these top-notch Weavers. It is also my best friend, Letice's birthday! Cake all around!
–Spring cleaning. Nothing in particular, just cleaning. Maybe I will even paint a chair or two in the dining area. I would also love to get a few things hung in the bedroom.
–This may sound selfish, but I want to try to take more time for myself. Whether that is training for a half marathon (My cousin and I are shooting for one in October), doing yoga in the morning, or just taking Lemon on more walks I have been really needing time to just clear my head and unwind the constant questions surrounding the future.
–Read the Hunger Games. Cliche` but yes.
–Figure out what to do with the danged vase and apothecary jars on my fire-place. We are in a love hate relationship at the moment.
I hope you are having a wonderful monday! In honor of Jordan getting us tickets to see Tenacious D this summer I leave you with Jack Black: